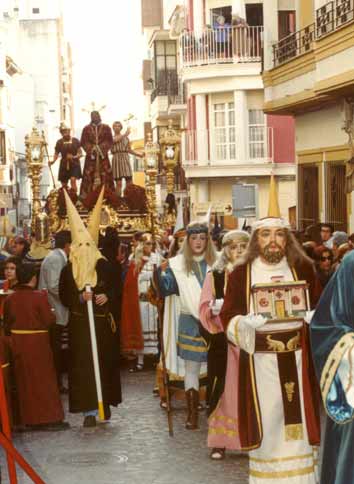 Holy Week in Puente Genil
Holy Week in Puente Genil, commonly known as "la Mananta", presents a large diversity of nuances, with the most characteristic being the processions of biblical figures from the Old and New Testament.
 These are dressed in period costume and carry the martyrs or identifying attributes and are shrouded in veils and the Roman soldiers and centurions wear helmets in a live representation of the Bible.
The biblical figures, currently of the Corporations (Groups governed by statutes and that have houses, known as Cuarteles [residences], where they get together all year and especially during Lent and Holy Week), accompany the processions that run from the Friday before Holy Week to Easter Sunday and they have existed since 17th century.
These include the Roman Empire, which is noteworthy due to its number, martial nature, beauty of the costumes and original music marches.
Altogether there are 425 biblical figures and over 60 Corporations.